"Techfor did not pressurise me in any way and patiently took their time in answering my many queries. I was very pleased I chose them as they proved to be very professional and efficient in everything they did whether this was in their technical knowledge, administration or installation. Overall a very good experience." Tim, Guildford.
Feed In Tariff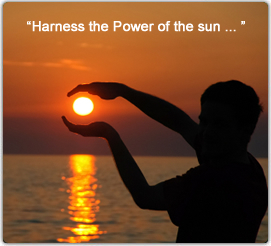 The UK Government has a legal obligation through membership of the EU to produce 15% of UK PLC's electricity from renewable sources by the year 2020.
Source: Renewable Energy Strategy from DECC
To meet this target, the Government has introduced a Feed in Tariff (FIT) similar to other EU governments, e.g. Spain & Germany, to encourage the take-up of renewable technologies by offering financial incentives for individuals and companies who install MCS accredited products using MCS accredited installers.
Download your FREE Consumer Guide to Solar Panels below:
Everything you need to know in one place -

How to get a great installation and avoid the pitfalls
FIT Basics (4kWp System Example)


The feed in tariff has three financial benefits.

For every unit (

kWh

) of electricity your system produces, your electricity supplier will pay you up to 4.11p whether you use it or not

For every unit (

kWh

) your system produces which is not used and instead is exported to the grid, your electricity supplier will pay you 4.91p.

Every unit (

kWh) of electricity produced by the PV system and used in the home, is free of charge, as it would cost
approximately 15p from your electricity supplier.

Click here for a simple illustration of how the FIT works

Payback Times
We always offer a detailed financial breakdown of costs and payback time and earnings with every quote we prepare, but these are based on individually designed systems which are specific to your site, your requirements and the specific calculated output of your system, given your site specific considerations.
Battery systems and other energy saving devices are now able to increase your self-consumption of your free solar energy, thus maximising your savings.

Battery systems can also provide energy security if you live in an area prone to power cuts or a weak grid supply.

Financial Details
The FIT can provide tax-free income, for generated and exported energy, based on current FIT rates.*1
The FIT replaces the Clear-Skies grant which paid a maximum one-off payment of £ 2,500 if several energy-saving and efficiency measures (costing several hundred pounds) were implemented.
Feed in tariff details:
Guaranteed payments for 20 years by the UK Government

Tax-Free income

Index linked to the RPI inflation index

Different FIT payments apply to different renewable technologies and different types of Solar PV

Retro-fit (occupied before the installation) and new build Solar PV panels command the maximum FIT payment

FIT payments return approximately 4-12% on the investment (for up to 4kWp systems)

Whatever level the FIT payment is at when your system is connected to the grid is the level at which it is paid for the next 20 years
*1 Dependent upon the installation specifics and the size and efficiency of the Solar PV system.

The table below outlines the Solar PV FIT payments from 1st April 2018 to 31st March 2019

Band (kW)


PV Tariff Level*




1 Jul to

30 Sep 2018







1 Oct to

31 Dec 2018




1 Oct to

31 Dec 2018




≤ 10kW

(not standalone)


Higher

4.01

3.93

3.86

3.79

Middle
3.61

3.54

3.47

3.41

Lower

0.31

0.25

0.20

0.15

> 10kW-50kW

(not standalone)

Higher

4.25

4.17

4.11

4.03

Middle

3.83
3.75
3.70
3.63
Lower
0.31
0.25
0.20
0.15

>50kW-250kW

(not standalone)

Higher

1.85

1.79

1.75

1.69

Middle
1.67
1.61
1.58
1.52
Lower

0.31

0.25

0.20

0.15

>250kW-1000kW

(not standalone)

1.50

1.43




1.38

1.33

>1000kW

0.31

0.25

0.20

0.15

Stand-alone

0.15

0.13

0.10

0.07

* PV Tariff level as detailed below:

Higher tariff rate will be applied if an EPC of level D or above is achieved before commissioning
Middle tariff rate will be applied if an EPC of level D or above is achieved before commissioning but the generator owns 25 or more installations

Lower tariff rate will be applied if an EPC of level D or above is achieved after the commissioning
All tariff rates are in pence per kilowatt hour at 2018/19 values